Chef Peden Rucker directs Patrick Properties Hospitality Group's celebrated culinary program across our historic Downtown Charleston event venues. When your guests are raving about how amazing the food was at your event, this is the man behind the magic!
A natural leader in the kitchen, Peden's refined technique and expertly tailored menus reflect nearly a decade of experience in high-end event cuisine. It's hard to imagine that our talented chef once pursued another career – as a professional baseball pitcher! When a shoulder injury sidelined the USC Aiken graduate, he channeled his energy into a longtime passion for cooking. Peden hung up his mitt and enrolled in The Culinary Institute of Charleston, where he quickly excelled before graduating to the hospitality field. He then gained experience with Charleston's top catering and events professionals, both as a part of the banquet team and later, in executive management.
Chef Peden recently participated in the Charleston Wine & Food Festival "Winederlust" event and noted that his Seared Rabbit Saddle dish was one of his favorite creations to date!
Chef values the work/life balance that he is able to maintain at Patrick Properties and loves that every week his team is able to help make dreams come true.
Now, on to the serious questions….
Q: If you were on death row, what would your last meal be?
A: Reeses and sour gummy worms
Q: Favorite old school jam:
A: Alice in Chains – Nutshell
Q: What is your favorite guilty pleasure TV show you're embarrassed to admit you watch:
A: LIVE P.D.
Q: How do you start and end your day?
A: Pop right out of bed and jump in the shower. I'm an early bird…… Finish the day with a glass of Bourbon (Cheers)
Q: Best vacation you've been on?
A: Montana
Q: Any favorite line from a movie?
A: "Theres no crying in baseball" from A League of Their Own
Q: What is on your bucket list?
A: Travel to Japan
Q: What phobias do you have?
A: Hate, hate, hate snakes
Q: If you could be anyone for a day, who would it be?
A: Roger Clemens when he played professional baseball. Just any day that he pitched.
Q: What actor would you choose to be you in a movie about your life?
A: Matthew McConaughey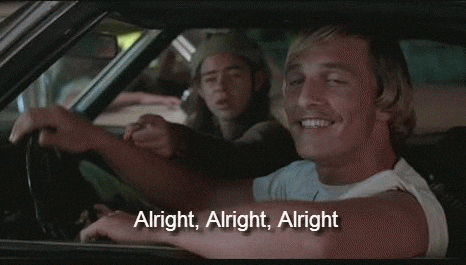 Thanks for everything that you do, Chef!